New Years Eve already??
How is tomorrow January?
I cannot believe it. I am hoping that 2013 brings many positive things
my way and I can find my happiness again.
Before I head out for my NYE plans which I am going with my friend Alex
to her friends' house for a party. I got a sassy new dress to wear
and cannot wait to see smiling faces & of course that ball drop
I wanted to link up for a weekend recap!
(i know they aren't linking up but, i still am being a faithful link up button stealer)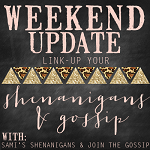 This weekend was pretty low key.
Friday
- I went to dinner & drinks with my friend Lisa. I got a fab turkey
burger and even better berry mojito. YUM-O. It started intense snowing, which of course didn't
stick or anything, and i just went home. In bed before 11 pm on a Friday.
WIIIILD
.
ootn- navy blazer: Charlotte Russe -- Scarf & Tank: Target
Saturday- Got up bright and early and went the soulard market
It is an open air farmers market with a small inside section with a bakery,
meat market & spice shop. My parents love going down there & I fell in love too.
The bakery/spice shop was closed until after new years, BUT we still got a lot of produce
and homemade pasta and peanut brittle. It is of course a little slower during the winter
time but it was still fairly busy.
We are going back again next saturday,
because I am obsessed
so I can get produce etc for my place back in springfield.
knitted headband- forever21
(i am awkward...)
I did a little nappin' & a little fajita cookin' that afternoon.
Then Jess&I went out for a few beverages. The first bar we went to, which i was SO
excited for because
a)
i had never been there and
b)
there was a local band playing.
but let me tell ya..
it SUCKED
! first of all it was a screamo band, which is
SO not my scene.
and i always forget that you are
allowed
to smoke in bars/restaurants in St. Charles.
(there is a smoking ban in public places in springfield)
it was small cramped bar & usually the smoking wouldn't bother me so much but
because of how close we were to everyone
it was overwhelming.
Wastey people running into me & blowing smoke in my face.
no thanks!
so we ditched that place quick & ended up at the casino.
(that's the casino we go to in St. Charles)
I lost like 5 bucks on the penny slots.
my gambling days are
numbered
done.
So as jessica contintued to play i meandered over to the bar got
a budlight and posted up shop. I LOVE people watching and lemme tell ya,
the casino (next to the airport of course) is the best place to people watch!

Sunday- i slept in. loved it. then mom & i braved the mall because i had
to return something & look for my nye outfit! Since i am just going to house party
I didnt want to get something to outrageous but i did get a cutsie little dress that I cannot wait to wear tonight. I also got a new peacoat for 5 BUCKS!! mage clearance! I also nabbed
two pairs of flats on clearance at payless as well as booties at F21!
(i am a bad blogger who didnt take any pics of it)
when i wear them I will post pics!

then after my sister got off work we went out for dinner to finally celebrate dad's birthday!
We went to Red Lobster & i ate way too much shrimp, literally almost exploded!

I was a good girl and went to the gym this morning!
if anyone wants to be fitness/workout/health buddy with me..let me know!
having someone to do it with you always makes it easier.
I am just looking for someone to be able to email/text/whatever to keep on track
share workouts/recipes etc

let me know!
anyways I better go pack all my crap to take to alex's to get ready!
lord knows its going to take me forever to get my hair teased high enough ;)
Have a wonderful new years loves & I cannot wait to hear all about
your evenings!
See you next year!
(cliche, but love it)