Alright well I am back on the fitness bandwagon.
I am really trying to make my workouts counts and really push myself
Sometimes i feel like i have a little drill sargent
in my head screaming,
"YOU BETTER KEEP GOING! Anyone can make it another 5 minutes!
Get your ass in those jeans!"
but pretty much the whole time
i hate it.
i hate working out. I just want to be a
skinny beesh
who can eat whatever she wants
however, i cannot. my metabolism is
zip
and i gain weight
just driving by a mickie dees. that is the reality.
so i gotta get my butt to the gym
and live on
oranges and broccoli.
(okay that last part is not true, but sometimes i feel like it)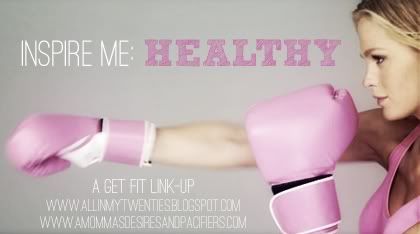 Ookay- to the link up. let's see what i did at the gym this week!
Thursday- 9/20
(yes i know i shared this last week but
i wanted to put it in with this one)
30 Min on Elliptical
Weight machines-
Rowing
bicep/tricep
glutes
Friday- 9/21
30 minutes on Elliptical
Weight machines-
glutes
upper chest/biceps
Abs-
Hip raises
regular crunches (feet on exercise ball)
side crunches
Leg Stretching
Saturday & Sunday- 9/22-23
Filled with the garage sale and
diy projects for my mom...
thus no working out. Headed back tomorrow morning!
Monday- 9/24
30 minutes on treadmill
Abs-
(i didnt keep track of how many i was doing--at least 30 per each though)
Regular crunches
Crunches with legs on exercise ball
lower ab raises
side crunches
Weight machines-
Inner thigh
Outer Thigh
Leg Stretching
Tuesday-9/25
30 minutes on Elliptical
10 minutes (high intensity) on the bike
-------Total 45 min of Cardio
Weight Machines
Biceps
Triceps
Glutes
Inner Thigh
Outer Thigh
Wednesday- 9/26
No workout
Thursday-9/27
30 minutes on treadmill
Abs-
50 Regular crunches
30 (per side) side crunches
30 hip raises
30 lower abs